Services
Carr Vineyard, MD is a foot and ankle surgeon specializing in the comprehensive management of foot and ankle disorders including ankle replacements, sport related injuries, achilles tendon disorders, arthritis, bunions, hammertoes, heel pain, and flat feet. In addition, Dr. Vineyard enjoys treating sports related and traumatic injuries to the foot and ankle, focusing on minimally invasive and arthroscopic techniques when at all possible.

Foot & Ankle Disorders
The foot and ankle in the human body function together in providing balance, stability, movement, and propulsion. The ankle joint is a hinge type of joint. The calcaneous or heel bone and the talus bone join to enable rotation of the foot at the ankle. The principal movements of the foot include inversion and eversion. Movements involving the toes are dorsiflexion and plantar flexion. Foot and ankle problems most commonly occur as a result of trauma, abnormal functioning of the bones and muscles or anatomic disorders. Some of the common foot and ankle conditions include:
Ankle Sprain
Ankle Fracture
Ankle Instability
Achilles Tendon Rupture
Osteochondral Injuries of the Ankle
Stress Fracture of the Foot
Heel Fractures
Lisfranc (Midfoot) Fracture
Talus Fractures
Toe and Forefoot Fractures
Turf Toe
Foot Fracture
Achilles Tendon Bursitis
Athlete's Foot
Bunion
Forefoot Pain
In-toeing
Morton's Neuroma
Plantar Fasciitis
Flatfoot
Fungal Nails
Foot Infections
Foot Drop
Hammertoe
Claw Toe
Ingrown Toenail
Corns
Diabetic Foot
Heel Pain
Ankle Replacement Surgery
Ankle replacement is a procedure performed to replace the damaged ankle joint with an artificial joint. Ankle replacement is generally carried out to treat arthritic conditions such as osteoarthritis or rheumatoid arthritis in which the ankle joint wears out or becomes inflamed and painful.
Ankle joint replacement is indicated when conservative treatments such as medications, exercise, physiotherapy, ankle support or shoe inserts have failed to provide relief from arthritic pain.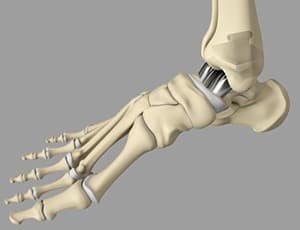 Ankle joint replacement is contraindicated in the following situations:
Young and physically active individuals
Severe foot deformity
Unstable ankle
Previous ankle joint infections
Collapsed talus (bone under the ankle)
Ankle joint replacement is performed under the effect of general or spinal anesthesia.
Sports Injuries
Sports injuries occur when playing indoor or outdoor sports or while exercising. They can result from accidents, inadequate training, improper use of protective devices, or insufficient stretching or warm-up exercises. The most common sports injuries are sprains and strains, fractures and dislocations.
Foot and ankle injuries include the injuries in the leg below the knee, and they are common in athletes and while playing sports such as football, hockey and skating. Common sports injuries to the foot and ankle include:
Achilles Tendon Rupture
Achilles Tendon Bursitis
Ankle Sprains
Ankle Fractures
Stress Fractures of the Foot
Treatment for these conditions may include orthotics, braces, physical therapy, injections or surgery.
Fracture Care
The word "Fracture" implies a broken bone. A bone may get fractured completely or partially and it is caused commonly from trauma due to fall, motor vehicle accident or sports. Thinning of the bone due to osteoporosis in the elderly can cause the bone to break easily. Overuse injuries are a common cause of stress fractures in athletes.
The most common types of foot and ankle fractures include:
Ankle Fracture
Stress Fracture of the Foot
Heel Fracture
Lisfranc (Midfoot) Fracture
Talus Fractures
Toe and Forefoot Fractures
Practice Location
9301 North Central Expressway
Tower One, Suite 500
Dallas, Texas 75231